Ford Blue Advantage: Confidence at Every Turn
Experience the benefits of Ford Blue Advantage! Each Ford Blue Advantage vehicle features a limited warranty, multi-point inspection, 24/7 roadside assistance, and FordPass™ Rewards Points.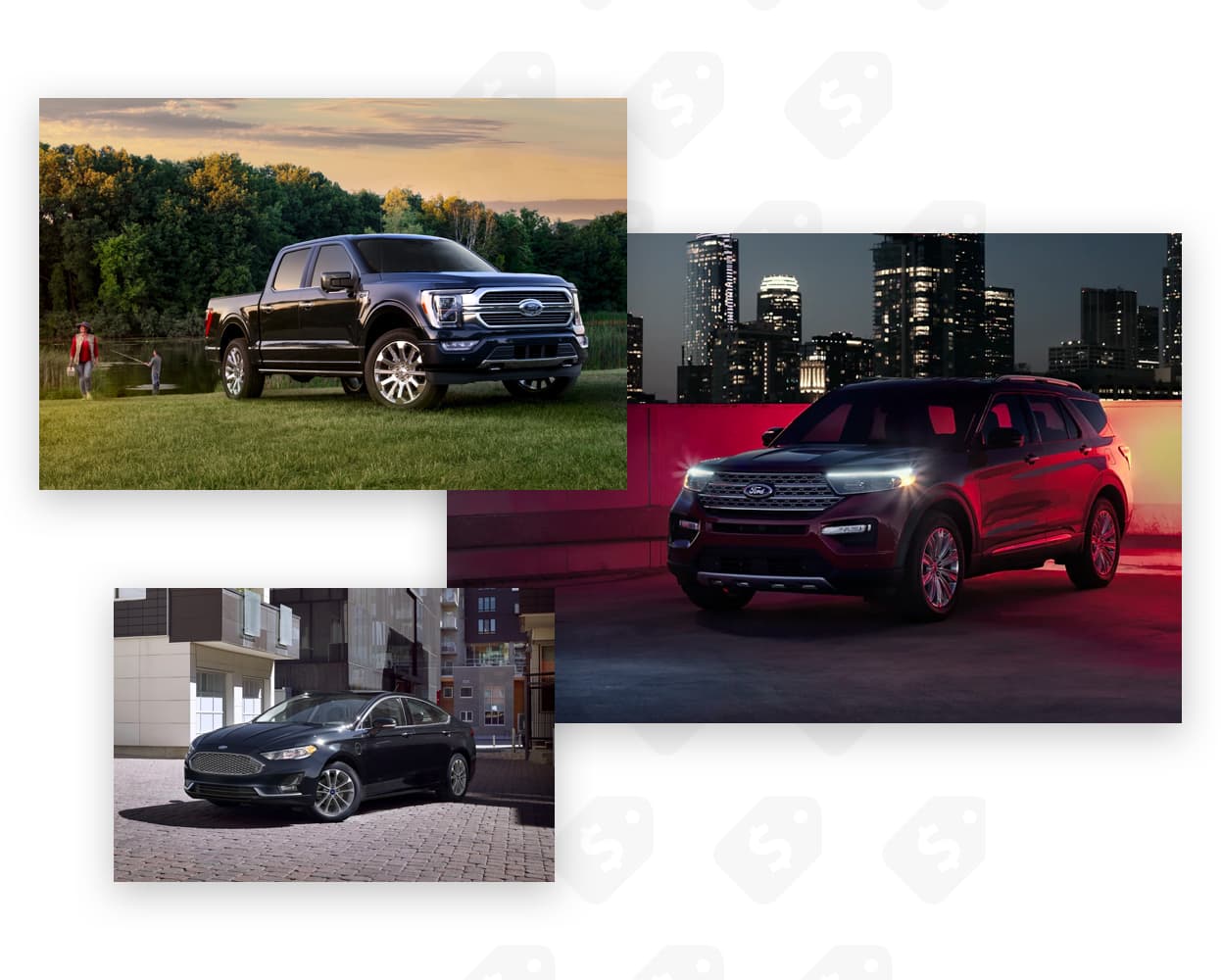 Take Advantage of This Month's Current Offers
Every month Ford releases incredible cash-back offers and special financing rates along with discounts featured in other special programs.
We're Here For You
Leo Kaytes Ford always puts customers first!
Don't take our word for it: Read our reviews and see what everyone is saying.
We purchased a Mustang Mach E from Leo Kaytes Ford. Buying a car with new technology can be a little intimidating. Knowing that we were purchasing our car from a dealership where you were treated with dignity and respect from an organization that has contributed to the community for years made that much easier. Our salesman, Mr. Rodger Homer, was knowledgeable, helpful and patient. That is something we really needed in making our decision to "buy in" to this new technology. We drove our new car off the lot, confident that we had made an excellent choice. More importantly, we knew that if we had a question or we had a problem with our new car, that we would be able to have any issues addressed by Leo Kaytes Ford, someone we could trust and someone that would address any issues that we have in the future. We are looking forward to picking up our Ford F150 Lightning next year from Leo Kaytes Ford!
This is our 2nd time leasing a car from Kates Ford. Our saleswoman Danielle was great not pushy and very friendly. Me and my family had been customers of another Ford dealership in NJ for over 50 years but they dropped the ball.
I just bought a ford explorer from Leo Kate's during covid. Everyone was absolutely amazing. Had an issue with car and it was resolved with professionalism and kindness. Service was great and fast. I have recommended them to several people and will go back for the next truck.
We bought a 1st used car for our son. Great people to work with, fair and very accommodating. There were no last minute expenses or hidden fees. Our son was ecstatic when we pulled into our driveway and surprised him! Thanks Leo Kaytes!!
Drove 2 hours on Saturday morning 12/23/17 from Long Island to Warwick to pick up one of the last 2017 F-150's they had in stock that I was looking for. Arrived at 9:30, after negotiating and striking a deal, drove home around 2:30 same day. Great experience. This is a small family owned dealership, which I prefer over the big city dealerships. I would recommend to anyone looking for a new car/truck.
his is my first Ford and I wanted to have it serviced at a Ford dealer, Leo Kaytes Ford is closest to my home and I was very satisfied with the quality of help I received. They were very attentive and kept me in "loop" as to what was being done. I would recommend Leo Kaytes Ford to anyone needing to have their Ford serviced there. Thank you
Had been looking for a 2015 and newer Lariat extended cab in a certain price range, nothing within 1.5 hours of me was available. Drove 2 hours to Leo Kaytes, test drove the truck. I worked with a salesman named Chris who was very helpful, he had made a video of the truck for me the night before to show me the features and what it looked like. They didn't come down on price, but they had just lowered it two days before I felt it was still a good deal at asking price. Some minor hiccups lead to me being there longer than I expected, but overall I was happy. Make sure you ask about financing options as I had to ask about the Ford CPO rates as they hadn't run them, made a significant difference.
My family and I drove over an hour and a half to Leo Kaytes Ford from Long Island on Saturday morning 12/23 to look into buying a new truck. By 2PM, we were driving home in a brand new F-150 Platinum. The staff there is very friendly and professional, and I felt they were honest me in all aspects of the purchase. The dealership itself is set in a small rural town, and it does not have that big corporate feeling you get when you walk into a showroom in a big city. This was a small town dealership kind of feel, and you can tell the staff was very personable and cares about there customers and stands behind what they sell. I would definitely recommend this dealership.
Hands down, one of the best car buying experiences I've had was at Leo Kaytes Ford. I bought my used 2007 Ford Mustang convertible there at a very reasonable price. Before the final purchase, I wanted to have the car checked out by my mechanic. They drove the car from Warwick to my mechanic in Nyack, NY to have it checked out, where it received a thumbs up - a little peace of mind for me. I plan on visiting Leo Kaytes Ford again soon with my family member who is in the market for a car. William Obie was a pleasure to work with.
I wrecked my car so I was told to go to Kaytes by a friend. I felt comfortable the minute I walked in the door. The sales manager Frank greeted me as soon as I walked in and set me up with Francisco who went over the car I wanted. I've had some credit issues and wasn't sure I'd be able to get approved. Frank and Francisco assured me to be positive. Sure enough they got it done!!! Cortney in finance made the paperwork process a breeze and I left with the car I wanted. No hassle, no going back and forth. I'll tell everyone I know to go there.
My husband and I purchased a 2017 F-150 on 06 SEP 2017 from Christopher Burba (Sales). Chris was very friendly and honest. He helped us find an F-150 that met our needs and that was within our price range. We received a fair deal on our trade in and an excellent price on the vehicle, Frank and Courtney got us a great rate on our loan. We would definitely recommend Leo Kaytes Ford to our friends and family.
This is our first used car in over 30 years. We always lease. We purchased a 2008 Lincoln MKZ, for our 17 year old son at another dealership. This dealership is much closer to home, decided or bring our car there. Had a few issues, USB, noise, and now problem with heat. MIKE at Service is top notch...all our issues were nothing and we just needed coolant for the heat. I can't thank him enough for complete honesty and satisfaction. THANK YOU MIKE!!!
I needed a dependable work truck so I went to Leo Kaytes ford. Not only was Claude Jailler there to answer my many Question but he came through and found me an awesome truck that I am so very happy with. I highly recommend Claude and the entire team friendly, professional and responsible= incredible
Great people to deal with. This local dealership treats customer like family. Their service dept is also very proactive and always return calls. I purchased two vehicles within a month from them.
Claude Jaillet is one of the best in this business. He ensured that we left with a smile and went above and beyond! I want to thank Claude, James, Mike, Susan,and the Leo Kaytes team for their exemplary customer service. They always ensure everyone leaves with a smile! They truly are top notch in the car dealership business. Thank you for everything!
I love this dealership!! I will buy all my cars from here the sales manager bent over backward for us and did everything to put me in the car I wanted. Thank you Claude Jaillet.
My Wife and Daughter started there vehicle search at Healey Brothers in Goshen NY. Upon arrival they spoke with the sales manager who kept them waiting for over 30 minutes without any further help. After getting treated poorly, They decided to take a ride over to Warwick to visit Leo Kaytes Ford. Once getting there, they were greeted by Robert, he is one of the sales associate's at Leo Kaytes. In the matter of 5 minutes Robert was able to calm my Daughter down, She was still fuming from her Healey experience and she is a spitfire!. From there Robert and Joe the sales manager were able to find and get the car my Daughter wanted along with the payments she could afford. It's a little bit out of the way but it's worth the few extra minutes to deal with caring people. Warmest Regards Lee B
I was interested in one of Kaytes cars but since I live 2 hours away, I needed to get all the information about the condition of the interior and exterior and mechanics of the car to make an informed decision before driving out. Their sales consultant Danielle went above and beyond by looking into all the things I asked her over email, going so far as to take a video of the interior and exterior of the car and sending it to me. Her emails were pleasant and reassuring, detailed all of the current service done on the car, and well explained your dealership's warranty. While I ultimately found a car that better fits my needs at another dealer, I was impressed by the service she provided.
This is the 5th car we have purchased from Leo Kaytes Ford. We live in metro NJ but drive one hour to this dealership because of the level of service we receive. We shop on line for the vehicle we are looking for, call the General Manager, Leslie, our car is ready, cleaned and waiting for us on the day we choose to come in. No deposits required since we purchased our first car. My salesman for my almost new 2013 Ford Escape SEL was so knowledgeable about the technical aspects of the vehicle that he helped me set up everything in no time. His name is Luke...he also called me several days later to make sure all is well. I am 58 years old and have dealt with numerous car dealers over the years...they are the best and have a lifetime customer. Carolyn Perren
I looked here for a used Ford Escape, finding my candidate vehicle online. In the end I didn't end up going with them for the car, but it was purely for me deciding on a different model/trim altogether, NOT the dealership. The salesman and the dealership were fantastic! I live in central NJ, 2 hours away. Before even coming up to visit, the salesperson was very courteous over the phone, offering to answer any my questions. There was absolutely no pressure and they were VERY informative. They even went so far as to record a detailed video to give a better perspective on the quality and state of the vehicle. The vehicle was immaculate and priced VERY fair. In fact, if I were to have gone with the car, little negotiation would have been necessary. I HIGHLY recommend this dealership as it was nothing but a most pleasant experience. If I am looking for a vehicle in the future, I will certainly look to them first!
I traded in my 2012 Ford Escape for a Ford Explorer. The only reason was that I missed having an Explorer. I have had several Explorers over the years but recently thought down sizing would be best. Not for me. Missed it. Nevertheless, I originally went to Healey Ford in Goshen. My usual sales associate wasn't present so I had to deal with someone else. Boy, I felt disrespected. He wanted to quickly go over the "numbers" rather than show me the vehicle. As he was entering my information, he was dozing off!! Then he disappeared for 20 minutes. I was about to walk out then he returned. He offered me an insultingly low price for my trade-in, 2012 Ford Escape Limited. I left and told him I was going elsewhere. I had an appt in Warwick and I thought how about Leo Kaytes. Their review were great. I walked in and met with Robert Melay, a true gentleman. He was very informative, respectful and offered to review several vehicle options. I also met with Bryan and Susan, who were each professional and kind. Leslie, sales manager, helped to coordinate a fair transaction. I LOVE MY NEW EXPLORER!! I would absolutely recommend my family and friends to Leo Kaytes. Just wished they were closer.
My car was in the shop and I was walking around the new cars waiting. I told Chuck I was here for service and he answered my questions and never pushed me for a sale. I fell in love with the Focus and ended up buying it that day, if he had pushed me, I doubt I would have bought the car. I told the service department I was getting a new carand they helped move my stuff from my old car to the Focus. It was just a really nice unexpected car buying experience. I was a little afraid of the birds they had in the showroom, but the cat made me feel right at home.
I went to Leo Kaytes Ford after a horrible experience at another Ford dealership in Goshen. I was fortunate to have a Saleswomen named Katt assist me. She was friendly, very knowledgeable and she took the time to help me find the right car for me. I felt no pressure to make a decision on my initial visit. After a few days I came back and leased a 2012 Ford Fusion. Perfect choice for mE. I am grateful to Katt and Anthony the finance guy for making this a very pleasant experience.
I have been a very satisfied customer of Leo Kaytes Ford for years - our family has purchased 5 in the recent years - new and used. The service department is excellent, and that - along with the straightforward sales staff - is what keeps us coming back. Great job!
Our family has purchased several vehicles from Leo Kaytes, most recently an Edge for myself and a Focus for my college-age daughter. Our experience was great. The sales and financing process was handled very smoothly and professionally. We use Leo Kaytes for all of our scheduled maintenance and, again, the service department was completely professional, handling everything in a timely manner and with good humor. They are a pleasure to do business with.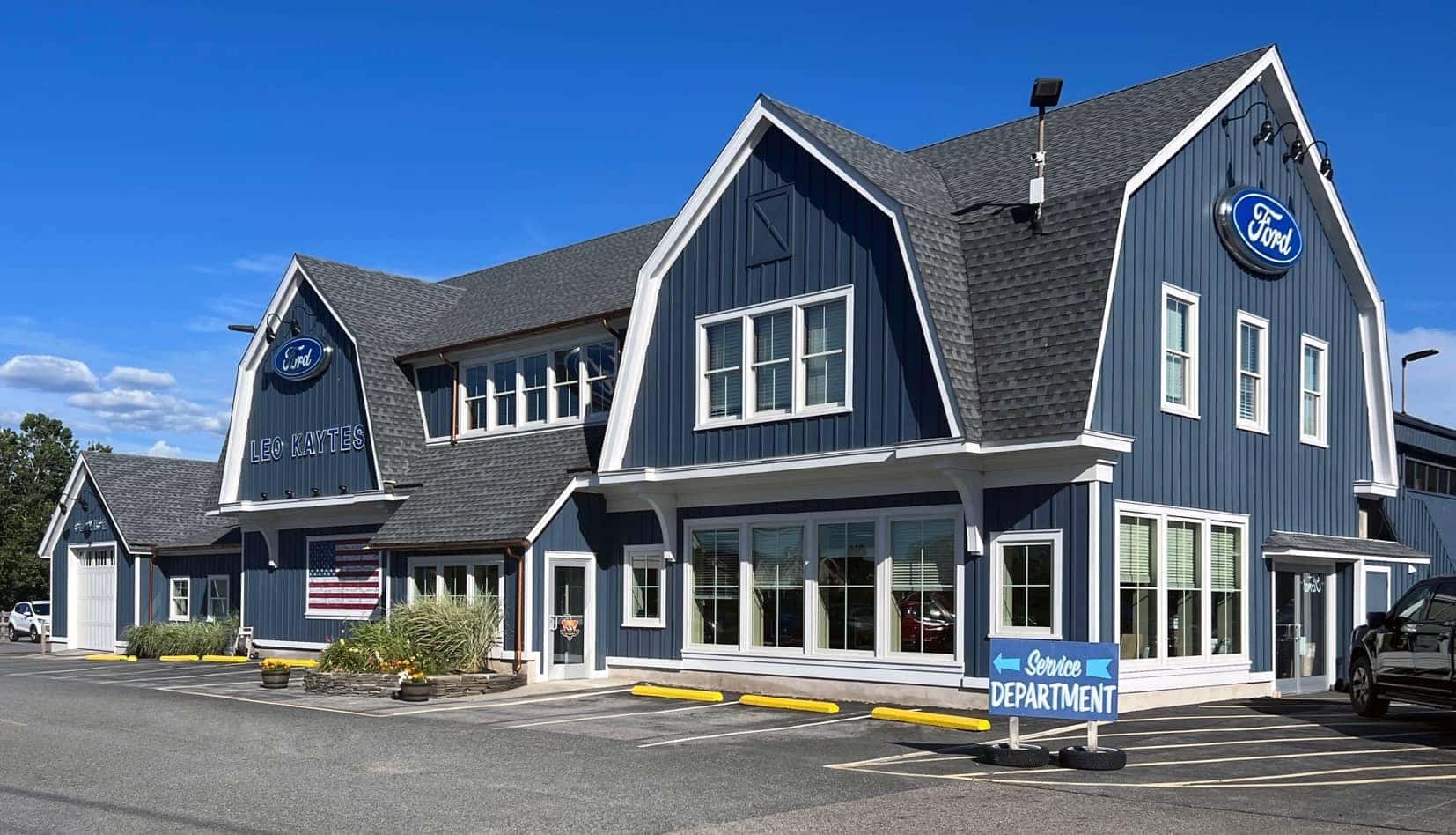 Welcome to Leo Kaytes Ford
Searching for a professional, reliable Ford dealership in the Monroe area to help with your auto sales or service needs? If yes, then Leo Kaytes Ford is the dealership for you! Our team of seasoned professionals is ready to help drivers from all over the Vernon Township with everything from buying or leasing to service and parts. Taking care of your auto needs can be a breeze when you choose Leo Kaytes Ford!
Contact Us
Like Us On Facebook
Leo Kaytes Ford
145 Route 94 South
Warwick, NY 10990
Sales:
(845) 986-1131
Service:
(845) 986-1131
Parts:
(845) 986-1131
Directions